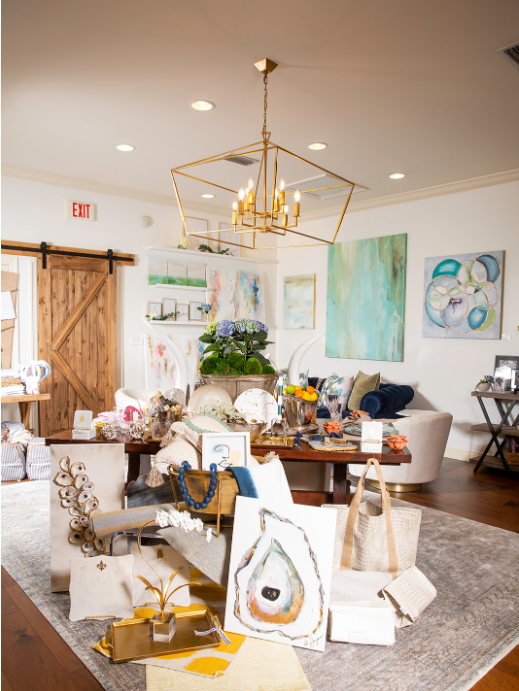 Collaborative By Design
Article Published in Access Magazine,
written by Jessica Goolsby &
photos by Stevye Photography
You know the feeling... from the disappointment in seeing same things everywhere to mourning your Grandmother's depression glass you didn't save, we're craving more meaningful and unique surroundings that reflect our true selves and experiences. Welcome to Interwoven. "Collaborative by Design" — a description Managing Partner Angela Weil and her Boutique Manager and General Partner Sadie Solberg liked so much that it became their tag line. Technically a new home, design, and gift boutique, Angela and Sadie sought out unique items inspired by their travels, tried and true traditions, and the incredible women in their lives. They joke that the description "a retail home and gift boutique" should be limited to filing for a tax ID or "some other mundane exercise," as Interwoven is truly so much more.
Striving to provide a finely curated collection of quality items that enhance one's life both internally and externally, Interwoven was born of an idea to form a collective that would facilitate the exchange of ideas, products, and knowledge in the design and construction industry for everyone. After 25 years in the industry, Angela Weil (co-owner of Stone Interiors alongside husband Dustin Weil) desired to transcend the barriers of the status quo, believing growth and innovation are often a product of an exchange of different cultures, visions, and experiences that arise from spending time in diverse circles. "There are so many people with multi-dimensional life experiences living in our Bay Area, so it only seems natural to seek connection with them to exchange ideas to collectively enhance our lifestyles," Angela shares...
"Interwoven is so much more than your basic retail home and design boutique; we are truly a collaborative experience bringing together one-of-a-kind artists, designers, influencers, synergistic ideas, eclectic styles, and an intentionally curated collection of furnishings, antiques, art, and boutique gift items."
As the idea emerged, Angela looked to Stone Interiors social media, PR, and marketing guru Sadie Solberg to help her vision take flight. "With a background in the hospitality industry, Sadie knows the value of impeccable presentation and customer service," Angela shares. "She is a natural people person, has an uplifting and upbeat personality, and is a customer service fanatic." With Angela's business and entrepreneurial abilities paired with the duo's passion for curation and design, Interwoven was born.
As with any great business, the concept of Interwoven is ever evolving. For now, the pair has decided to focus on opening as an affordable luxury boutique. The boutique features a few main collections: art and antiques; home furnishings and accessories; tabletop; barware; linens; and unique gift and lifestyle items. Additionally, the boutique is developing partnerships with various influencers and industry professionals to continue to develop their curated collections to help the Interwoven customer create his or her ideal living space without breaking the bank. Looking to showcase some "one of a kind" pieces by both emerging and established artists and craftsmen as well as custom and eclectic furnishings, Angela says she and Sadie are equally excited about their unique gift lines they've sourced, believing each piece (great or small) should be meaningful, generate interesting conversations, or represent parts of our lives that we love to reflect upon.
Wanting to serve a broad demographic across the Bay Area, Angela and Sadie opted to heavily involve (or collaborate with) their family members. This unique, and hilarious, group of ladies represents almost every generation and has a unique taste and style. For instance, Sarah Neilsen (a.k.a. "Mammie") knows and loves a good cocktail (as well as the proper way to serve one). Her favorite pieces are the fun and festive margarita glasses and the wine coasters because "a proper wine service should always have a linen coaster." Cris Solberg, Sadie's mom, has just returned from living abroad in Guam, thus brandishing a worldly and sophisticated taste. Cris's favorites are the handmade flatweave neutral pattern rug and the horn sculptures both adding an exotic element to a traditionally furnished space. On the other hand, Denise Blanda (Angela's mom) enjoys a clean, efficient, and practical style. She adores the hammered metal collection of serving pieces because hey add a touch of elegance to the home and and involve no maintenance or upkeep. because it suits her with form and function. Both Cris and Denise have made Interwoven a true family affair by helping out in the store as well and on any given day you can pop in, sip champs, shop, laugh, collaborate, and leave with new friends.
Grace, Angela's daughter and budding artist, is also part of the collaboration. Having beautifully rendered the already iconic portrait of the store's mascot, Little Veuve, an aptly named puppy who adores greeting store visitors, Grace also boasts an equestrian-inspired collection entitled "Beauty in Motion" that's perfect for any Point Clear home. She also loves the Triple Crown inspired hair and wrist scarves. Speaking of Veuve, they plan to unveil a new "Doggie Couture" line in honor of the pup who, yes, is named after the champagne, soon.
So, how far does one have to go for "'Affordable Luxury'? "We adore and support our vibrant downtown Fairhope, but with the shift in population toward highway 181 and our access to onsite warehousing, we decided this location was more ideal for our growth plan as we expand our product and service lines," Angela says. Also, in the developmental stage of a trade program that will offer services and incentives to those in the industry such as interior designers and stagers, Angela adds, "We are in a unique position to develop professional and corporate programs such as sourcing, staging, warehousing, private branding, and marketing services at competitive rates."
For the utmost convenience, Interwoven also boasts a complete online marketplace and they plan to frequently offer promotions and surprises via social media. "In-store events will be a large part of our culture," Angela shares. "People are our business, and Interwoven plans on hosting several social and educational events throughout the year. Stay tuned to see what surprises are in store!" For Sadie, it's pretty simple. "We absolutely love what we do. Meeting incredible people and hearing their fascinating stories that in turn help us curate meaningful design and products is, well, it's all Interwoven — truly 'Collaborative by Design.'"